During several years the shop was located at Södra Benickebrinken 4 (South Benickebrinken) in the old town.
This has now changed.
2015
Nowadays, one reseller is located in the old town of Stockholm on the corner Tyska Brinken 20 / Svartmangatan.
The shop is very close to The German church. So that is the new place to find our products.
Production takes place in Nacka (outskirts of Stockholm, Sweden).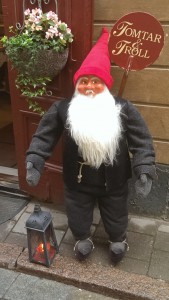 In the shop you can buy both Tomtar and Trolls based on creatures from ancient Scandinavian fairy tales.
They are entirely hand made by the Swedish artists Kicki and Maija and are available in all imaginable sizes.
If you are looking for a unique souvenir you will surely find it here!
Tomtar (gnome), the story behind them
These small creatures live in and around the houses and sheds on Swedish farms.
If you are wise you will show the Tomte "due respect", and he will protect the household
from accidents and … read more…
Troll, the story behind them
In Scandinavian folklore there are two sorts of troll- Bergstroll who live in caves in the
mountains and Skogstroll who live in the deep dark forests.
They hoard treasure in their dens.
Trolls have big ugly noses and long … read more…
Our web shop
We sell our handmade Tomtar (gnomes) in our web shop.
Delivery times for outside Sweden is normaly 3-4 weeks.
We accept most mayor credit cards. VISA and Master Card. (Paypal).
… shipping and payment information…
Contact us
One reseller is located in the Tyska Brinken 20 in the old town (Stockholm),
The shop is very close to The German church. So that is the new place to find our products. … read more…
Tomtar & Troll the Company
The story began in 1988 in a basement at Ringvägen 156, Stockholm (Södermalm).
The two decorators and artists Maija Tahko and Kicki Flodén made decorative materials
to a large department store in Stockholm. It was mainly the Christmas decorations that… read more…
Thank you. (tack så mycket)
Kicki, Maija, Klas